Spa
Welcome to Naj Naay Spa and healing Center
Indulge in relaxing and rejuvenating therapies which combine ancient rituals with cutting-edge treatments
Naj Naay invites you to enter a world of well-being through the different elements and get closer to the roots of pre-Hispanic medicine. Each Spa treatment is complemented by our our healing circuit, which includes a 60 minute circuit of sauna, steam room, cold water pool, hot water pool and Scottish shower to prepare the body to receive the benefits of any of our different treatments.
Giving your mind, body and spirit the opportunity to achieve a state of wellbeing in an intimate space, our medicine woman will hold your hand and guide you through a wellness experience that utilizes all four elements – water, air, earth and fire.
Opening hours: 9 am – 6. pm. Hotel guests only
Classical Massages
A collection of the most popular classic massage therapies and holistic methods for deep relaxation or stimulation of the body. From Swedish and Sports massages, to Reflexology or Thai, find the treatment to address your needs.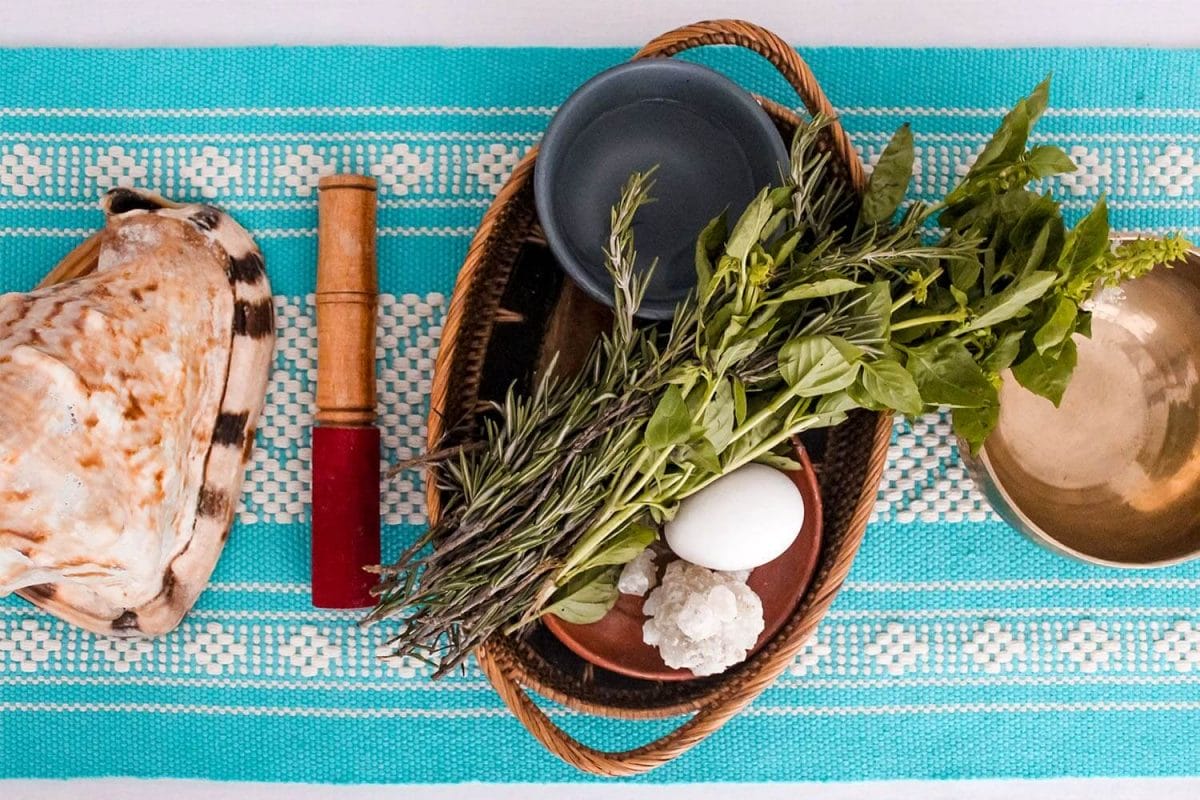 Mayan Therapies
A collection of traditional Mayan healing techniques that help you open energy channels, cleanse and find your center with the use of specific massage techniques and sacred herbs. Energy add ons can be added to any therapy.
Body Treatments
Treat your skin to a relaxing experience. Organic detox, hydrating and rejuvenating body treatments and signature facials. Natural, botanic locally sourced oils and products.
Healing Circuit
Naj Naay is designed to ensure every visitor leaves in a state of pure unadulterated bliss. In order to prepare you to receive our treatment's healing benefits, we invite all our guests to start with a 60 minute circuit of our humid area and rotate through Sauna, Turkish bath, Scottish shower, bathing hot and cold pool.
Please book your circuit in advance at front desk.
Access to humid area is only available if booked ahead.
Couples Treatments
Health begins with moving closer to love and connection. During a massage, your body releases oxytocin, the "love hormone" that creates a sense of affection and love. When you get a couples massage, love is literally in the air. Relax side-by-side as our therapists treat your needs individually, inquiring about your specific expectations and areas of concern. Reach over and hold hands mid-treatment during this special experience designed for two.
Romantic Date
A personalized couples holistic massage that adapts to the needs each guest with the use of various massage techniques: stretching, shiatsu, reflexology, tissue deep and lymphatic drainage. The therapy lasts 90 minutes. The cabin is decorated with roses, rose petals and candles. After the treatment, you are invited to relax and enjoy chocolate covered strawberries and a bottle of prosecco.
What Our Guests Say
My fiancée and I stayed here for our honeymoon and it was absolutely perfect. The staff was so friendly and accommodating. They even had little surprises set up for us being newlyweds. The rooms were beatific and had all the amenities you need. The location was perfect, too. We will definitely be staying here again.
I had the most wonderful stay at The Beach Tulum. From the moment I arrived to the moment I left the entire staff could not be more friendly, gracious and accommodating. The property is BEAUTIFUL as well as tranquil and serene. It is a private little oasis where you every need is taken care of (and even some you didn't think of). It is a great location with walking distance to restaurants and shops but I also recommend their restaurant at the hotel – Ziggy's. I had the most wonderful stay and would not hesitate to recommend this gem. I can't wait for my next visit.
This was an absolutely beautiful, quiet getaway right on the beach. Everyone worked hard to make our stay perfect, and their attention to detail was much appreciated. Food was delicious and the view cannot be beat.