Ziggy's Restaurant
Fresh ingredients to experience Mexico's true flavours
Ziggy's Restaurant serves only the finest international cuisine with a taste of Mexico. Our specialty is freshly-caught local seafood and fine meat cuts seared to perfection on our open view grill.
Our frequently updated menu gives patrons the largest possible variety of tastes and experiences. Our kitchen creates all dishes with fresh, locally-procured ingredients, as well as the finest imported selections.
Extensive wine and cocktail list with top tequila and mezcal brands. Ziggy's kitchen is flexible towards our clients who have special dietary needs or tastes.
Drink and dine on the sand, in a romantic atmosphere to the sound of the ocean. At Ziggy's, footwear is always optional! We are happy to personalise each experience for special occasions or celebrations.
Breakfast
One of two breakfast options, Ziggy's offers à la carte breakfast with a view of the ocean. Homemade bread, jam and croissants, fresh juices, pancakes, puddings, sandwiches and eggs any style. Seasonal fruit smoothies mixed with natural cocoa, coconut oil & superfoods to start your day.
Lunch
In our kitchen we use native and local products, fresh ingredients of the highest quality. Try our freshly made ceviches and aguachiles, or enjoy grilled fish or burgers, salads and much more. Don't miss our top seller Tuna Tartar. Vegan and veggie options available.
Dinner
Romantic and feet in the sand dining on the beach. Our dinner menu focuses on dishes from the grill or the oven. Using cutting-edge techniques we create and deliver an experience of Mexico's true flavours. Join us before 8 pm for some live-music while enjoying dinner and drinks.
Restaurant Coupons
10% off on Food and Beverage with our online prepaid coupons. Once you have booked and paid your coupons you will be emailed a voucher for the entire amount. The total amount will be credited to your room. Each time you order at Ziggy's or Fresco's, the bill will be charged to your room. You can check your remaining credit anytime at front desk.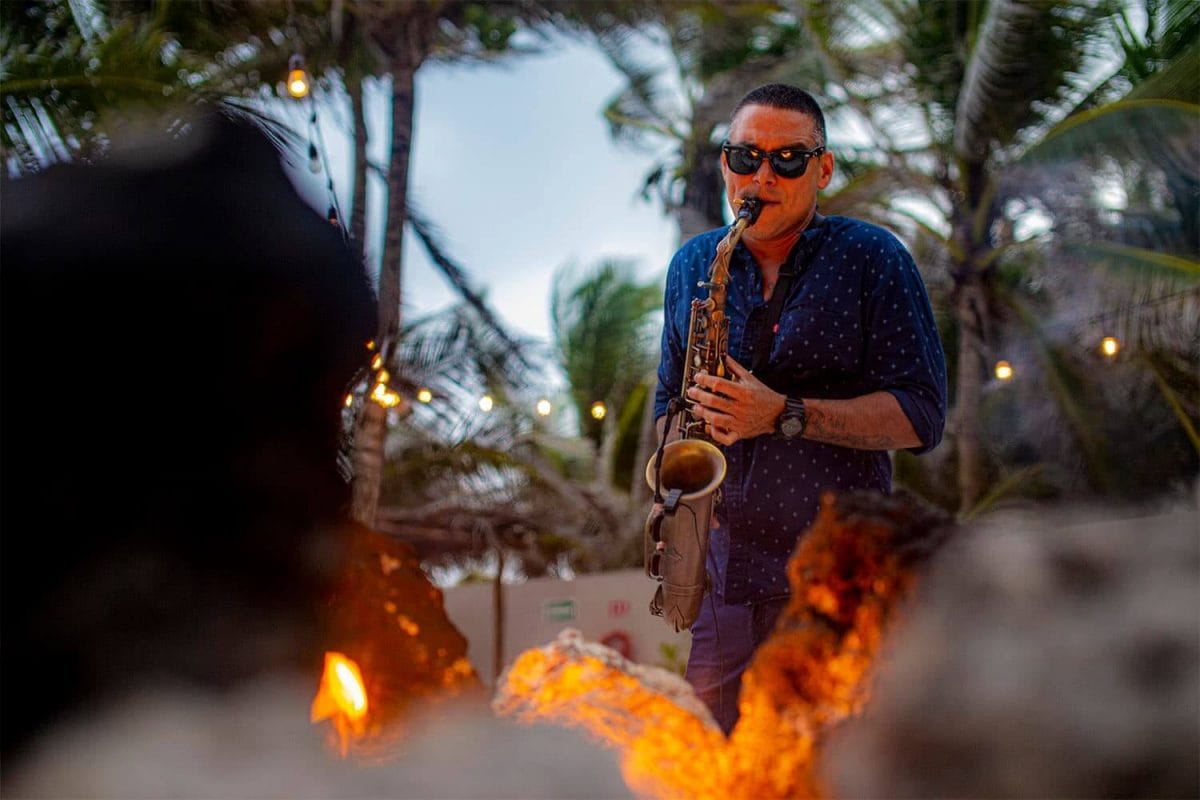 Live Music
Join us from sunset to dinner with our live music sessions. Check our online calendar for daily bands. From classical Mexican Mariachi to Sax beats, fusion, reggae, salsa and Caribbean Latin rhythms, choose the one you'd like most while tasting one of our signature cocktails or enjoying dinner.
Private Events
If you want to surprise your loved one or family with a special beach side event, we'll help you organize everything in detail. From a romantic beachside private dinner to a bachelorette celebration, family reunions or rehearsal dinners. Our events team will organize the perfect occasion!
What Our Guests Say
My fiancée and I stayed here for our honeymoon and it was absolutely perfect. The staff was so friendly and accommodating. They even had little surprises set up for us being newlyweds. The rooms were beatific and had all the amenities you need. The location was perfect, too. We will definitely be staying here again.
This is our 5th visit to Beach Tulum. We've been going to Tulum for 25 years. This is our favorite hotel. The food, the accommodations: all excellent but most of all the staff are the nicest people you'll ever meet. Any person you walk by will always say hello. And the front desk will help with any reservation you need. My only concern writing this review… I hope I can make a reservation for next year!
We stayed at The Beach Hotel for our Honeymoon in April 2018 for 5 nights and I wish we could have stayed longer! The staff are so friendly and helpful. The grounds are so well maintained and always looking picture perfect. We arrived to a beautiful room full of rose petals and a bottle of champagne, it was so perfect, we couldn't have asked for a better stay. Our room was always cleaned perfectly and nothing was ever a hassle. We would highly recommend this Hotel and we can't wait to come back!